As policy makers across the globe face low growth and piles of debt, taking on more debt seems to be the favored strategy to reviving their economies. This according to an article in Bloomberg.
The article reports that the past decade of easy money has resulted in $250 trillion of government, corporate and household debt across the globe, which represents about $32,500 per person.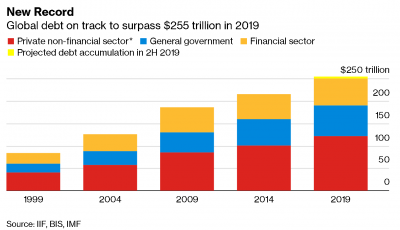 "Much of that legacy stems from policy makers' deliberate efforts to use borrowing to keep the global economy afloat in the wake of the financial crisis," the article says, adding, "Rock bottom interest rates in the years since has kept the burden manageable for most, allowing the debt mountain to keep growing."
Many argue that more debt will only add to problems, but the article reports that central bankers and policy makers contend it's a good time to borrow for projects that will reap economic rewards. It quotes former U.S. Treasury official Mark Sobel: "Given lower interest bills and markets' pent-up demand for safe assets, major advanced economies may well be able to sustain higher debt loads."
The article notes that the debt issue also extends to the next generation of workers—specifically, U.S. students who are struggling to pay off $1.5 trillion in debt.
"Even if debt is cheap," the article says, "it can be tough to escape once the load gets too heavy. While solid economic growth is the easiest way out, that isn't always forthcoming. Instead, policy makers have to navigate balances and trade offs between austerity, financial repression where savers subsidize borrowers, or default and debt forgiveness."
The article cites comments from Allianz chief economic adviser Mohamed El-Erian, who says the best solution for high global debt levels is to "grow out of it gradually and consistently."