Last year's synchronized surge in FAANG stocks has faded as investors look beyond the pandemic. This according to a recent article in The Wall Street Journal.
"It is a far cry from last year," the article reports, when the FAANGs "took a commanding role in a market driven by the coronavirus pandemic."
Now, as the economy reopens and vaccinations continue, "investors have broadened their sights beyond the familiar names whose technology businesses thrived as many Americans switched to working, shopping and socializing at home."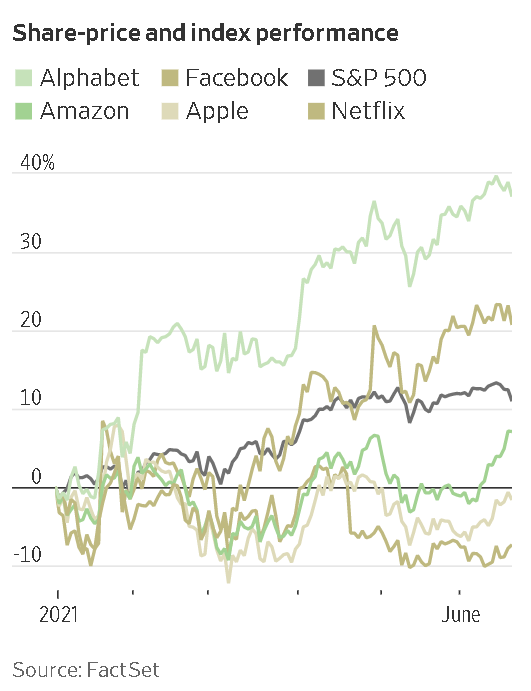 "Just investing in the top four or five big-cap companies probably won't do it this year," says Jim Golan, co-manager of the William Blair Large Cap Growth Fund. And with the healthier economy improving prospects for many shares, investors are less motivated to pay up—especially given growing inflation concerns and questions around the Fed's monetary policy.
The article cites comments from Kevin Landis, manager of the Firsthand Technology Opportunities Fund: "Philosophically, if you're buying those very large-cap stocks—let's say a trillion dollars and above—you're doing so not because you think you've found some undiscovered gem. You're doing it more as an expression of a tech thesis, that people are going to be rotating to tech." However, the article argues, that rotation "began to unwind" in November amid news that the Covid-19 vaccine was progressing, at which time value stocks began a month-long rally.
---

Get Full Access to VALIDEA Today
Invest Using Proven Quantitative Strategies – Risk-Free Trial.

Free Report on Systematic Investing
Get a free systematic investing guide, which explains how systematic investing works.

See the stocks part of the S&P 500 and have increased their dividends in each of the past 25 years.
---