Warren Buffet made an unusual bet on Apple that could turn out to be one of his best bets ever, raking in more than $120 billion as the tech giant skyrocketed up to a $3 trillion market valuation in the first week of the new year, reports an article in CNBC.
Berkshire Hathaway started purchasing Apple in 2016 and by mid-2018 they'd accumulated a 5% stake in the tech giant, spending $36 billion. That initial investment is now worth $160 billion. In addition, Berkshire has regularly seen high dividends, averaging roughly $775 million annually.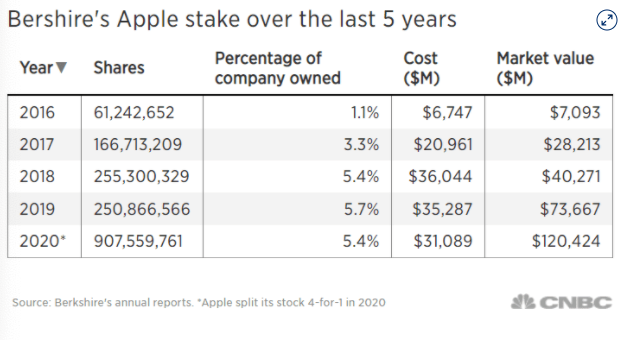 What makes the bet unusual is Buffett's well-documented aversion to popular, soaring tech stocks. But over the last decade, he's come around to them thanks to investing deputies Todd Combs and Ted Weschler, and now the company's stake in Apple takes up more than 40% of its equity portfolio. Indeed, last year Buffett told CNBC, "I don't think of Apple as a stock. I think of it as our third business."
And even though the company has trimmed back some of its Apple stake in the last few years, its overall stake has actually increased because of Apple's repurchase programs. That "illustrates the power of repurchases" the company said in its 2020 annual report and is quoted in the article, because despite selling some of their stake that year, they wound up with a 5.4% stake in Apple—a "costless" increase—benefitting their investors with 10% more indirect ownership of Apple's assets and future earning. Berkshire's investment in Apple also helped the company weather the pandemic storm two years ago when many of the other pillars of its business suffered huge hits.